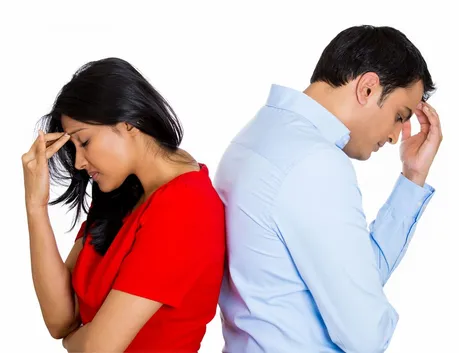 When we disagree, the consideration should not be "who is right and who is wrong", but rather "will my actions improve, preserve or harm our relationship".
When we have a problem with our husband, wife or partner – that problem will never be resolved by attempting to make the other person see we are right and they are wrong.
In virtually any situation where there are disagreements between two people, the person with the most power – boss, parent, etc. – will use what psychiatrist William Glasser called "External Control". When using this approach, we say to the other person, "I don't like what you are doing and you need to change or we won't solve this problem".
In a romantic relationship where both partners have relatively equal power, both may engage in attempts at external control. These toxic habits disconnect us from loved ones.

Examples of external control :
Criticizing
Blaming
Complaining
Nagging
Threatening
Punishing
Rewarding for control (you do this and I'll do that)
Pouting
Withdrawing
Repairing, rebuilding and maintaining a healthy relationship depends upon attachment bonds; the idea that human emotions are connected to human needs. When an individual's needs aren't being met they have an emotional reaction – they may become angry, distant, depressed, etc. – and engage in external control attempting to have those needs met.
By helping couples understand their partners' emotions and the underlying needs those emotions represent, the partner in need won't resort to external control. Rather the supporting partner will be prepared to respond in a manner appropriate for preserving the attachment bond.
Arguing is not necessarily a sign of a bad marriage. Likewise, never arguing is not a sign of a good marriage. In fact, marriages without argument may indicate the couple has checked out of the relationship. This approach does not prevent arguments or disagreements. However, it does allow couples to resolve differences without destroying the emotional bond holding the couple together.
When working with couples I use the insights and techniques developed from years of empirical research by Dr. John Gottman (The Seven Principles for making Marriage Work) and Gary Chapman (The Five Love Languages). Our approach is based on Dr. Sue Johnson's Emotionally Focused Couples Therapy (EFT). The EFT approach can also be used with families in distress and individuals who want to connect better with others and manage their need of support from others.
We work with men and women of all ages, and make it our business to understand the unique challenges race, age, gender, disability and sexual orientation can place on an individual.

You may read more about couple and family relationships by visiting the following pages:
If you would like to read more about Emotionally Focused Couples Therapy visit www.drsuejohnson.com or www.ICEEFT.com